Upcoming Events
05-15-2020

8:00 am

-

5:00 pm
Members: $150 and Non-Members: $175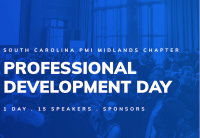 The 2020 South Carolina PMI Midlands Chapter Professional Development Day (PDD) is a one day conference hosted by the Midlands Chapter of the Project Management Institute (PMI). It was created to provide local and regional project management professionals the ability to enhance their project management skills through collocated training, while earning continuing education credits for project management certifications.
06-11-2020

5:30 pm

-

7:30 pm
PMI-BPMO Summer Lecture Series
Hosted by BusinessPMO

Included: 1 PDU (Leadership), Light Snacks/Drinks, Gift Raffle, Two 30-minute Networking breaks.
Conflict is inevitable on projects, whether it's for resources, deliverable due dates, personality conflicts, changes in direction, and any number of other reasons. Knowing how to manage conflict is an essential skill for anyone in a leadership role and those who work as part of a team responsible with multiple priorities.
During this presentation, we will review some techniques for working through conflict and how to turn conflict into something that helps spur progress. We will also put some of these ideas into practice with some hands on exercises.
Here are some highlights of the topics we will cover:
1. Encouraging, and properly managing, conflict to create progress
2. Clarifying disagreements
3. Establishing common goals
4. Discussing ways to meet common goals
5. Determining barriers to agreement
6. Agreeing on the best way to resolve a conflict
7. Recapping the agreement, roles and responsibilities, and next steps
Chapter Membership
US$20/year
Be part of the largest PM community
Get more, free opportunities to earn PDUs
Save on career-advancing certifications
Find relevant jobs with the PM Job Board
Stay up-to-date with PMI publications
Grow Your Skills
It is particularly important for Project Managers to maintain and improve their project management knowledge and skills to stay competitive in the market. PMP certification is a critical component. As, during the resent years, project management discipline took a step toward more flexible and dynamic project management methodologies, in addition to the traditional waterfall approach, several new emerging methodologies became in high demand. Thus, training and credentialing in these methodologies became highly sough after among Project Management professionals. It is especially relevant in today's economic climate.
Membership Statistics
| | |
| --- | --- |
| Total Members | 580 |
| New Members This Year | 45 |
| PMP® Members | 355 |
| CAPM® Members | 16 |
| PgMP® Members | 1 |
| PMI-SP® Members | 0 |
| PMI-RMP® Members | 2 |
| PMI-ACP® Members | 15 |
| PfMP® Members | 0 |
| PMI-PBA® Members | 0 |
| Members with no Certification | 207 |
| Breakdown by type | |
| Individual Members | 570 |
| Student Members | 4 |
| Other Members | 6 |
PMP/CAPM/PgMP/PMI-SP/PMI-RMP/PMI-ACP/PfMP/PMI-PBA are registered marks of the Project Management Institute, Inc.
Members in Spotlight
Kaitlin Smith, PMP,CAPM
Daniel Shannon, PMP
David Stark, PMP
Jerry Dire, PMP
Preston Compton
Robin Carter
Teresa Shuler
Tony Laaper, PMP
Sponsorship Opportunities
The Project Management Institute, with members in 135 countries, is the world's foremost authority for the project management profession. PMI sets industry standards, conducts research, and provides education and certification opportunities designed to strengthen and further establish the profession. Our chapter proudly serves all the local and national professionals in the space of Project Management. We currently have thousands of members - over half of whom hold PMI's esteemed PMP certification - and represent nearly 400 unique companies across the globe.
Get Involved
Find a Volunteer Opportunity
Make your mark on our PMI Chapter and the profession. As a member, you can volunteer to work on and to lead activities that advance the profession and support the chapter business operations by joining our chapter volunteer community. All volunteer openings are managed by the PMI Volunteer Relationship Management System (VRMS). This system includes the ability to search for opportunities, view details about each role and apply online.
Earn PDUs by Volunteering
Volunteering Project Management Professional PDUs can be earned as part of Category E: Volunteer Service. Category E, along with Category D (Creating New Project Knowledge) and Category F (Working as a Professional in Project Management), comprise the Giving Back To The Profession Categories. You can earn PDUs in Category E (Volunteer Service) by providing volunteer, non-compensated project management, and many others.
Speakers for our Chapter's Events
Our PMI Chapter welcomes proposals from passionate speakers interested in sharing their experiences, knowledge and expertise on such topics as general business and strategy, leadership, project management, and technical or industry-specific specialties. Our Professional Development events provide professional development units (PDUs) of educational information necessary for those attendees maintaining certification designations. Speakers are also eligible to claim PDUs for their creation and delivery of the presentation material.