Upcoming Events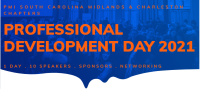 The PMI Professional Development Day 2021 (PDD) is hosted by the South Carolina Midlands and Charleston Project Management Institute (PMI) Chapters. We created this event to provide local and regional project management professionals the ability to enhance their project management skills through virtual conferences while earning continuing education credits for project management certifications.
Early Bird Registration until September 24, 2021 - $69 Members / $79 Non-Members
Regular price after September 24, 2021 - $99 Members / $119 Non-Members
Charleston Chapter Members, remember to enter your discount code.
Location: Online via Zoom
Time: 9:30 AM to 4:00 PM
Replays: Links to the recordings will be distributed within ten days after the conference ends.
PDUs: Up to 15 PDUs (13 PDUs during the online event PLUS 2 PDUs after the conference)
Post-Conference BONUS Content:

1 PDU: A complimentary course provided by one of our sponsors, International Institute for Learning (IIL).
1 PDU: A recorded presentation from our PMI Chapter Engagement Partner, Sarah Maxwell.
How will I get my PDU credits?
PDU credits will be logged on behalf of those who attend the live Zoom sessions.
We will also make the event codes available for self-reporting after watching the recordings.
10-26-2021
6:00 pm
-
7:15 pm
John Brock, PMP, PSM
Principal Consultant
Better Squared LLC/ChangeMadness.com
Time: 6:00 PM EDT
Date: Tuesday, October 26, 2021
Change Madness → Change Sanity
Turn Change Madness into Change Sanity by using a systematic process integrated into the project plan.
Learning Objectives:
Identify where you are and where you want to go

Identify potential resistance to change

Build a strategy and action plans to mitigate resistance & arrive where you want to go

Create a foundation to sustain the change
11-18-2021
6:00 pm
-
7:15 pm
Robert Wright, MSSM, EdD, PMP
President
Wright Management and Consulting Group
Time: 6:00 PM EDT
Date: Tuesday, October 26, 2021

Risky Business: How to measure risk and avoid project pitfalls

There are many things a project manager must do. Managing risk is a topic that fails to get a lot of discussion yet is an area that can cause an otherwise savvy project manager to have a failed project. Join us as we explore risk management best practices and review common and perhaps not so common risk tools.
Learning Objectives:

During this session, we will discuss the following topics related to risk:
What is risk?

Do I need a Risk Management Plan?

What is the Risk Management Process?

What tools can the project manager use to identify, monitor, and mitigate risk?

What is, why, and how do I set up a Risk Management Team?

What are the roles, products, responsibilities of Risk Management Teams?

What do the following topics have to do with risk, and why should I care?
(Lead, supporting, management, schedule, deliverables)
Chapter Membership
US$20/year
Be part of the largest PM community
Get more, free opportunities to earn PDUs
Save on career-advancing certifications
Find relevant jobs with the PM Job Board
Stay up-to-date with PMI publications
Grow Your Skills
It is particularly important for Project Managers to maintain and improve their project management knowledge and skills to stay competitive in the market. PMP certification is a critical component. As, during the resent years, project management discipline took a step toward more flexible and dynamic project management methodologies, in addition to the traditional waterfall approach, several new emerging methodologies became in high demand. Thus, training and credentialing in these methodologies became highly sough after among Project Management professionals. It is especially relevant in today's economic climate.
Membership Statistics
| | |
| --- | --- |
| Total Members | 487 |
| New Members This Year | 67 |
| PMP® Members | 320 |
| CAPM® Members | 14 |
| PgMP® Members | 0 |
| PMI-SP® Members | 0 |
| PMI-RMP® Members | 2 |
| PMI-ACP® Members | 17 |
| PfMP® Members | 0 |
| PMI-PBA® Members | 0 |
| Members with no Certification | 153 |
| Breakdown by type | |
| Individual Members | 471 |
| Student Members | 12 |
| Other Members | 4 |
PMP/CAPM/PgMP/PMI-SP/PMI-RMP/PMI-ACP/PfMP/PMI-PBA are registered marks of the Project Management Institute, Inc.
Members in Spotlight
Anthony Miles
Carlos Quiles, PMP
James Galluzzo
Kelsi Witz
Lauri Bailey
Nisreen Saikaly
Patrick Wagman, PMP
Rebecca Wilcox, CAPM
Ann Gunning
Audra Nelson
Carla Wadsworth
Cynthia Kestner
Dan Jack, PMP
Dennis Battles, PMP
Erica Jones
Hubert Bryant, PMP
James Remsey, PMP
Jeff Kost, PMP
Jeffrey Phillipy, PMP
Joelyn Manfredi, PMP,PMI-ACP
Jonathan Hopkins, PMP
Justin Self
Karla Buru, PMP
Kimberly Delpino
Matthew Lekovich, CAPM
Mi Sou Hood, PMP
Michael Mays, PMP
Neema Nicholas
Paul Leo, PMP
Rachel Artis
Saleh Natsheh, PMP
Sunitha Chandu, PMI-ACP
Vikki Woodard
William Phillips
Sponsorship Opportunities
The Project Management Institute, with members in 135 countries, is the world's foremost authority for the project management profession. PMI sets industry standards, conducts research, and provides education and certification opportunities designed to strengthen and further establish the profession. Our chapter proudly serves all the local and national professionals in the space of Project Management. We currently have thousands of members - over half of whom hold PMI's esteemed PMP certification - and represent nearly 400 unique companies across the globe.
Get Involved
Find a Volunteer Opportunity
Make your mark on our PMI Chapter and the profession. As a member, you can volunteer to work on and to lead activities that advance the profession and support the chapter business operations by joining our chapter volunteer community. All volunteer openings are managed by the PMI Volunteer Relationship Management System (VRMS). This system includes the ability to search for opportunities, view details about each role and apply online.
Earn PDUs by Volunteering
Volunteering Project Management Professional PDUs can be earned as part of Category E: Volunteer Service. Category E, along with Category D (Creating New Project Knowledge) and Category F (Working as a Professional in Project Management), comprise the Giving Back To The Profession Categories. You can earn PDUs in Category E (Volunteer Service) by providing volunteer, non-compensated project management, and many others.
Speakers for our Chapter's Events
Our PMI Chapter welcomes proposals from passionate speakers interested in sharing their experiences, knowledge and expertise on such topics as general business and strategy, leadership, project management, and technical or industry-specific specialties. Our Professional Development events provide professional development units (PDUs) of educational information necessary for those attendees maintaining certification designations. Speakers are also eligible to claim PDUs for their creation and delivery of the presentation material.