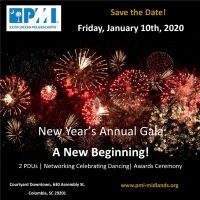 Join us for our Chapter's 1st Annual Gala at the Marriott Courtyard's Richland Room. We will have an Awards Ceremony, Formal Dinner (Dress Your Best!), Chapter Updates and Music/Dancing with a live DJ.
Registration is limited to the first 75 people.
To register as a couple, select the "Register (Group)" option. PMI MIdlands Chapter members need to login for discounted pricing ($40/individual, or $70/couple).