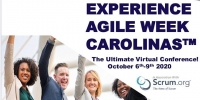 LEARN FROM TOP AGILE LEADERS. SEE THE OPPORTUNITIES AVAILABLE TO YOU.
Agile Week Carolinas™ is a week long online series of events where attendees can learn, engage and connect with knowledgeable presenters & partners!
Agile Week Carolinas™ provides a dedicated platform for Companies, Teams and Individuals to discover what's NEW, CHANGING, or TRENDING in Agile as a global community!